Go back
Garden Furniture & Fencing & Patios
Compact Shrubs For Borders To Make A Statement
Having an attractive garden means much more than a pristine lawn and smart new driveway, it also means a good selection of flowers, green plants and shrubbery.
Creating a garden that is pleasing to the eye and easy to care for takes some skill, but with the right choice of plants you can ensure that your garden looks the part.
Borders are a fantastic way to create interest in the garden, without taking up too much space and losing that all important lawn or driveway area. Using compact shrubs in your borders will ensure that the look is not overcrowded and that you get the colour you want all year long.
Real estate agents point out that a fantastic garden will increase the value of your home by as much as 20%. This is certainly significant when improving your garden can be a cheap project to do and one that offers so much satisfaction.
Creating that great first impression is important for the front garden and for the back and you want a space that is pretty and easy to look after, while still offering an outdoor space that is usable as another room to your home.
What Is A Border?
In your garden a border is pretty much what it sounds like. It is an area of garden that borders the lawn or the driveway. It may also border other garden areas like the patio, pathways, structures like sheds and even can be the area around a vegetable patch.
In fact a border can sometimes be referred to as any patch of garden that is being used for flowering plants or bushes rather than vegetables.
Most people tend to create a border that is simply designed to soften the edges of the garden by hiding the side fences. These rectangular beds can be somewhat boring unless well planted.
You can also choose to create something more curved and with shape to allow you to fit more plants in and to have more interest to the look of your lawn. Shrubs are a great way to do this as you can choose them in different sizes to create height and interest.
What Makes A Shrub Compact?
There are many types of shrub, and they come in many different shapes and sizes. A shrub is essentially a woody plant that has many branches and stems (differentiating it from a tree). Usually, a shrub would grow as high as 8ft and could be just as round.
However, this is not suitable for borders, as these tend to be smaller areas with many other plants living alongside.
A compact shrub may also be known as a dwarf shrub or a miniature shrub. In some cases, they are also called sub-shrubs. These plants are specifically bred to never grow more than around 1 metre in height, often growing less than a few centimetres from the ground to provide ground cover.
A compact shrub is more likely to have a defined shape and will fit perfectly into the spaces between other plants.
Shrubs are very slow growing, and in many instances, people buy shrubs expecting them to remain the size they were when bought. Bear in mind that some small shrubs may actually become quite large over time.
So if you want a compact shrub because it has to fit a compact space – ensure you are choosing a dwarf shrub, and not just a slow growing one. Or you may have to find a new space for it in a few years as it outgrows its original area.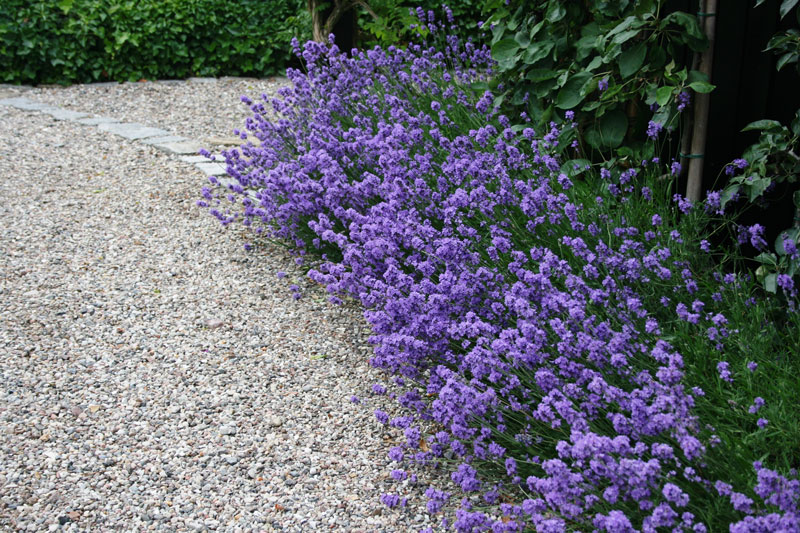 Choosing The Right Shrubs For Your Border: Key Points To Ponder
One of the things about borders is that they can look magnificent in the summer and then when autumn comes along, the flowers die and the colour disappears. This is where compact shrubs can really improve things.
These small shrubs are ideal for filling spaces and being placed close to the edges of your border. They will often flower for many months and retain their green foliage throughout the entire year.
When chosen well and mixed together, your shrubs could flower for the entire year, giving you additional colour, whilst also allowing your garden to recover from the Winter in style.
When deciding on the right compact shrubs for your border, consider the location and the soil. Some of your borders may be in bright sunlight, while others may have mostly shade. Your choice of plants must reflect this.
The prettier shrubs that have large flowers tend to be warm-loving plants and will appreciate the sunny side of your garden.However the greener shrubs are more likely to be in the shadier areas.
This doesn't mean you can't grow both in the same place, you may just find you have fewer flowers on one side than the other.
Some great choices of compact shrubs include various shades and types of lavender, clematis, buddleia petite, nandina, dianthus gem, hydrangea glam rock, various sempervivum and many types of miniature roses and climbing roses.
Looking After Your Compact Shrubs: 5 Top Tips
● It is always easier to buy shrubs that are already grown and sold in pots. In the case of compact shrubs, these may be fully grown, and may not expand beyond the size they are when purchased. This makes it easy to work out how many you need to fill the space.
● When taking from the pot and adding to your border, ensure that the soil is suitable. It needs to be easy draining soil so that the plant does not sit in water for too long. This can drown your plants. That said, shrubs do grow well in heavy soil, or very dry soil depending on the type you have chosen.
● Before planting take the time to inspect the roots and tease them out if needed. You want to the plant to take to the soil readily, so giving the roots space will help in this process.
● Water well once planted and occasionally over the next few weeks. Shrubs respond well to occasional soaking during dry weather rather than regular watering. They like rain and sun too.
● Your compact shrubs may require a little trimming from time to time to ensure they maintain their compact shape. Sometimes plants will develop tendrils that cause them to lose their shape. All you need to do is trim these off as they appear. Cutting back in the Autumn can also lead to renewed flowering the following year, but do check if your shrubs will benefit from this.
Compact Shrubs For Borders: Final Verdict
Planting small and compact shrubs in your borders is the perfect way to create height and to soften the edges of your lawn, pathway, patio or driveway.
If you have recently laid a new resin bound driveway, you will especially love creating a new border that will complement the colour drive you have chosen.
Shrubs are the perfect way to do this, and will provide many years of enjoyment and year round colour to boot.
Seeking further green-fingered advice on sourcing the best shrubs for your borders? Talk to the experts today,Call 0800 1700 636 or by simply clicking the button below!