Go back
5 End Of Driveway Landscaping Ideas To Consider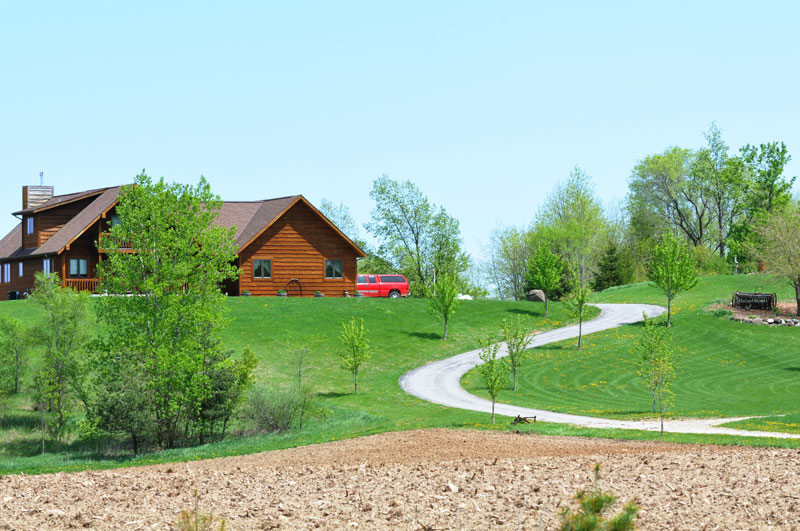 The best home improvements are designed to boost the appeal of your property, make it safer, and give it that true homely feeling. Creating the perfect first and last impression all starts with your driveway, and how well it suits the rest of your home.
We use our drives every day, but often, they are not given the same extent of consideration as the rest of our homes. For both the appeal of our homes, and the property value, this can be a big mistake.
The driveway alone holds the potential to add around 10% to the value of your home, but more than that, it gives an impression that sets the tone for the rest of your home.
Creating the perfect design with our end of driveway landscaping ideas is incredibly easy and effective. While the whole drive is important, it's the end of the driveway that is the key to your entire property – a truly great place to start when transforming your home, as the following article reveals…
The Perfect Driveway – Creating The Best First Impression
The small area at the end of your driveway holds a wealth of potential, and there are many fantastic end of driveway landscaping ideas to fit the style and needs of your unique property.
For a bit of a makeover, or a full-blown transformation, here are our top end of driveway landscaping ideas to get you started:
Extra Security With A Driveway Gate
Security is incredibly important for any home, especially when it comes to separating your property from the street. This makes a new gate for your driveway both an aesthetically appealing investment and one that helps your home to stay more secure.
A specially designed security gate can create a wonderful first impression, as well as stopping children or pets running into the road.
Whether you go for a manual or automatic gate, there are plenty of designs, styles, and security features to choose from.
Plan With A Means To Go On
When it comes to implementing the perfect end of driveway landscaping ideas, it is vital that you start with a means to go on. While a design may look good at the time, when you step back and view your full driveway landscape, you'll find that the design simply doesn't flow.
From flower beds, to stunning driveway borders, creating flow that continues all the way up your drive is a truly eye-catching feature.
Paying careful attention to your plants, or trees, and their placement, is crucial to achieving a cohesive design.
Products like resin also offer longevity, countless customisable options, and exceptionally easy maintenance, making it a prime choice for an awe-inspiring driveway!
Enhance Your Landscaping With The Perfect Driveway
No driveway landscaping tips would be complete without considering the driveway itself. No extent of landscaping can cover a damaged, or unsuitable driveway, making it essential to your landscaping.
Choosing a premier product, like resin bound driveways, can completely transform the look, practicality, and design options of your drive.
Products like resin also offer longevity, countless customisable options, and exceptionally easy maintenance, making it a prime choice for an awe-inspiring driveway.
Tailor The Look To Fit Your Home
Your home is a reflection of your personality, and this should be continued through to the very end of your property.
Taking a few of the design choices from your home, and carrying them through to your drive, can create a wonderful sense of cohesion.
This could be by using a similar colour palette to your home in the choice of driveway gate, additional furnishings like plant pots, or something simple like matching your indoor plants with those outdoors.
Continue The Landscaping With Additional Attention
Implementing end of driveway landscaping ideas that suit your home puts you on the right path to creating the best first impression, but this shouldn't have to fade when you get to your property.
A few adjustments to the exterior of your home can make all the difference, both to the appeal of your home overall, and your drive in particular.
From hanging baskets with plants that match those at the end of your driveway, to investing in wall coatings designed to give your home a makeover, and save you money on your energy bills, there is a lot that can be done to continue the design onwards and upwards.
For more information about landscaping your driveway, transforming your home with a new resin driveway, or making your property warmer with a wall coating, don't hesitate to contact our team at Home Logic, by simply calling 0800 1700 636, or by clicking the button below!