When designing your dream renovation, upgrade or new build it is important to consider how to insulate attics. The correct ventilation, heat retention and space covered are all significant factors to be taking into account when insulating an attic or loft...
VENTILATION IS KEY TO A WELL INSULATED ATTIC
Ventilation throughout the house is important and sometimes overlooked by inexperienced or do it yourself developers. Good home ventilation is important because it achieves things such as reduced condensation, reduction in toxic fumes (VOC's) let off from gas cookers or other appliances, dispersing of allergens and protecting your respiratory health.
WAYS TO INSULATE YOUR ATTIC
Imagine how much warmer you feel with a hat on in the winter, it's a lot more right? This is because the hat works on your head the same way as insulation would in a house.
Around 25% of heat lost from an uninsulated home is through your attic, so it is important to insulate. There are pros and benefits to either doing it yourself or hiring a professional so we have listed a few of them here to help you make a more informed decision.
DO IT YOURSELF
Benefits:
Cheaper cost to insulate.
You can learn elements of a trade.
Negatives:
Adequate ventilation and building regulations may not be met.
Will take a lot longer than a professional too complete.
You will have to purchase tools and equipment, most likely at a higher cost than professional.
HIRE A PROFESSIONAL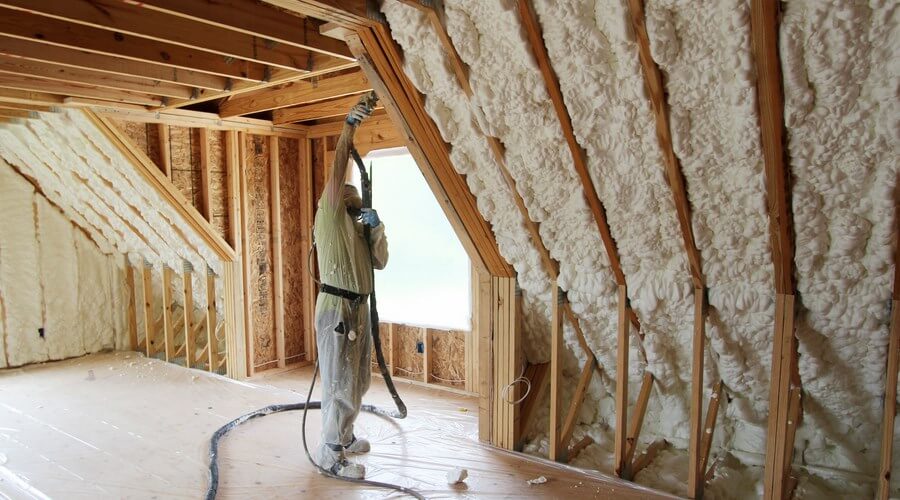 Benefits:
Professional application to ensure maximum insulation.
Warranty to prevent against any defects or future problems.
Peace of mind.
Negatives:
Will cost considerably more than doing it yourself
1MM AIR LEAKAGE CAN MAKE A BIG DIFFERENCE
As little as a 1mm air leakage gap in your home can lead to 360ml of water per day being trapped within the property. If this builds up over a month then you can potentially looking at a 10 LITRE build up of condensation which can run through your rafters, walls and electrical fixings causing damage to your property.
Building components can last a lifetime if they are looked after hence why it is so important to keep your property airtight.
CONCLUSION
'How to insulate my attic?' It's a question where the answer can make or break a project. If you are going to choose a professional, make sure you choose a BBA Approved Installer. This way you can be assured that your installer has met the rigorous standards this regulatory board sets to ensure a professional level of service is given. You can get a quote from our installers by calling 0800 1700 636 direct!