Go back
Cheap Gravel Driveway Edging Ideas To Make An Impact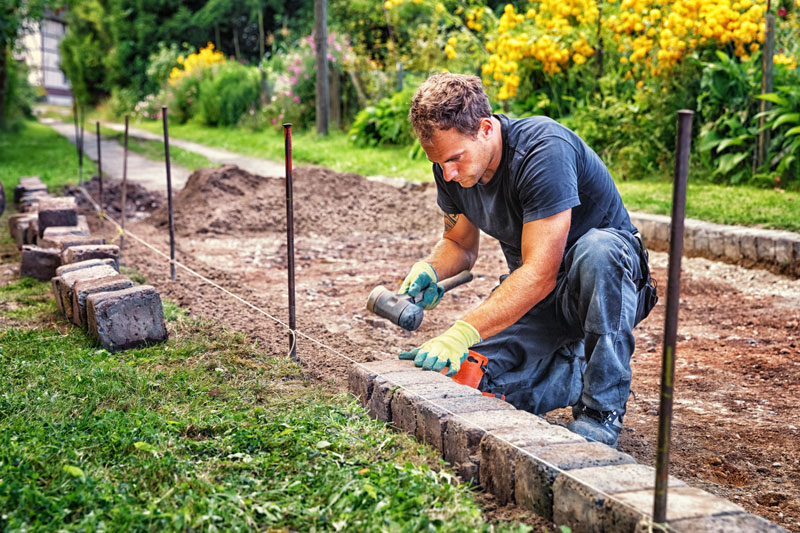 Edging is an essential part of constructing a stable gravel driveway, helping to contain the loose stones so they don't become a hazard. However, edging an entire driveway is often incredibly expensive.
When it comes to pricing up the cost of edging your driveway, there are two main factors that need to be considered: the size of the driveway, and the type of material that you want to use.
As the size of the driveway is not easily changeable, that leaves the edging material as the best place to start saving some money.
From the beautiful to the practical, we have you covered with the top 5 cheap gravel driveway edging ideas, to solve your edging problem on a budget…
Idea 1: Wood Edging
Number one on our cheap gravel driveway edging ideas list is one of the most widely used edging materials: wood. Standard wooden edging is a great and inexpensive way to create a basic edging border for your drive.
Easy to install, and relatively cheap to buy, wood is a top choice if you are on a budget. However, when considering wood for edging, it is vital that the material is treated first.
Just like the gravel, the wood edging will have to withstand the changing seasons. For a more decorative style, you can mix it up from the standard wooden planks, by opting for logs, or treating the wood with different coloured paint.
Idea 2: Concrete Stone Edging
While unlikely to be as cheap as wood, concrete stone edging is an inexpensive way to gain an extra degree of strength.
Better suited to harsher weather, and constant traffic flow, concrete could prove to be a better investment in the long run. It is also fairly straightforward to lay concrete edging on gravel driveways.
Idea 3: Brick Edging
Brick is one of the best ways to add style and security to a drive, whilst still being amongst the top cheap gravel driveway edging ideas. Bricks can be purchased new for a relatively low price, but they are often even cheaper if they are reclaimed.
Reclaiming materials is an affordable and eco-friendly alternative to buying new, but can also add a unique character to the finished design.
With no structural requirements, you can create some truly wonderful borders. From using flowerbeds to border your driveway, to incorporating unique designs, with materials like seashells; there are many different designs that you can try out on a budget
Idea 4: Stone Edging
If you want to create a unique finish that you can customise, stone edging is one of the best options amongst the cheap gravel driveway edging ideas. Stone edging can be achieved with a vast variety of different stones, from larger rocks, to specially designed edging rocks.
While not as affordable as some other options, stone can provide a solid finish that will last.
Idea 5: Plastic Edging
For cheap gravel driveway edging ideas that are incredibly affordable, pre-made plastic edging in a top choice.
Not as strong or as attractive as the alternatives, plastic still has many redeeming qualities such as: ease of installation and a much lower price overall.
Resin Driveways: Get Creative with Your Borders
There are many wonderful ways to edge a driveway on a budget, but when it comes to gravel driveways, the options are very limited.
The material needs to be able to contain the gravel, which means that many of the solutions for cheap gravel driveway edging ideas are not quite as beautiful as a driveway border has the potential to be.
Alternative driveway types, like resin bound driveways, give you a whole new realm of possibilities to explore, really allowing you to get creative with your designs.
Resin driveways are constructed by binding the stone, aggregate, or marble of your choice, with a clear resin. This creates a surface that is durable, low maintenance, and that doesn't require edging for structural purposes.
Transforming Your Driveway With The Help Of The Experts!
The exterior of your home can easily give a wonderful lasting impression, even if you are on a budget. In this respect, upgrading your driveway is the ultimate failproof investment.
With a highly customisable surface, like that offered by resin, you can design your perfect drive, without fear of it falling apart at the seams – a very real problem with gravel!
At Home Logic, we have witnessed first-hand some of the beautiful designs that our previous customers have created, by working with the smooth surface of their new resin driveways.
If you are looking for innovative solutions to enhance your driveway, and invest in a driveway that really stands out, don't hesitate to contact our team today, by calling 0800 1700 636, or by simply clicking the button below!